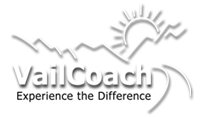 VailCoach provides luxury private charter ground transportation to Vail, Beaver Creek, Breckenridge, Keystone, Aspen, Snowmass, Copper Mountain, Steamboat, Denver, and the airports. VailCoach is the recommended alternative transfer to a shuttle, limo, limousine, bus, and rental car service, for safe, professional, and comfortable transportation to your resort or event destination.

Eagle County Airport
Meet & Greet Procedures
|&nbsp
Terminal Map
|
Once your aircraft has landed at Vail Eagle Airport (EGE), you will exit the secured arrival area and head to the main terminal. Baggage Claim will be on your right. Your driver will be standing in the "Meet and Greet" area to the far right hand side of the baggage claim area holding a sign with your last name. PLEASE make contact with your driver before claiming your bags.
Large Groups
New regulations administered by Eagle County Airport (EGE) only allow one driver to meet and greet all arriving passengers for one company. This may be an inconvenience for both you and your driver on congested arrival days. Should you NOT see your driver, please call our toll-free number 800.554.7433 or 970-477-0001 Links to the Eagle Vail (EGE) Airport Map, and EGE Printable Information are located in the upper right corner of this page..