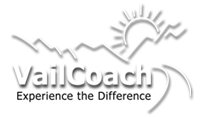 VailCoach provides luxury private charter ground transportation to Vail, Beaver Creek, Breckenridge, Keystone, Aspen, Snowmass, Copper Mountain, Steamboat, Denver, and the airports. VailCoach is the recommended alternative transfer to a shuttle, limo, limousine, bus, and rental car service, for safe, professional, and comfortable transportation to your resort or event destination.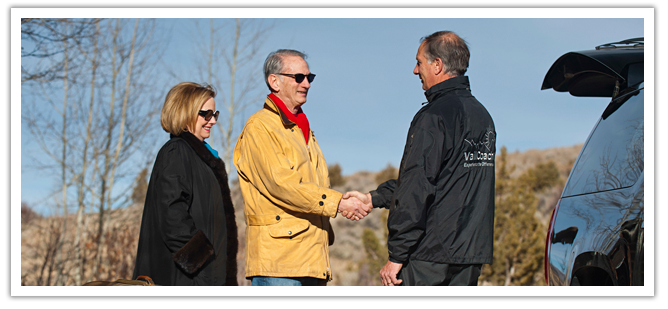 What Our Guests Say! - 970-477-0001
Brad, Both drivers, Shane and Mike, were great. We enjoyed the ride and will be sure to recommend you to all our friends. Thanks for starting and finishing our trip so nicely!
James from Georgia
I just wanted to thank you for the fantastic service you have provided for us. Your staff is competent and so pleasant to deal with. You are running a wonderful company and have added to our great stay in Vail..Thank You
Karen from Montreal
Hey Brad, hope this email finds you well. Just wanted to say thanks again for all your help in the States. Leigh and I really appreciated your assistance and guidance. We will happily be recommending you to anyone we can. Thanks again, Reagan and Leigh
Reagan from Australia
Hi Brad Pat did an outstanding job today -you now have an even more loyal customer, who will actively advocate for your services- those road conditions were as truly challenging as I've ever experienced, and Pat handled them with skill, calm and focus as we picked our way through the white-out weather and the ensuing lesser-prepared traffic chaos-thank you VailCoach
Frank from New Jersey
Sure glad that I didn't have to drive in that snowstorm myself. Mark handled the storm conditions like a pro. Thank you VailCoach
Joseph from Florida
Brad, just a quick note to thank you and your drivers for the excellent service you gave my family for our trip to Vail. You are truly a 1st class operation.
Michael from London UK
Thank you, Brad..Your assistance to us on this vacation planning has been amazing, above and beyond the pick up driving service. I will spread the word on Vail Coach and you to others going to Colorado.
Stephen
Brad-just wanted to drop you a line and say that we were VERY HAPPY with your service! From my initial call talking with you about booking, the help renting skis, and getting discounted lift tickets. The drivers that escorted us to our destination each way, to the quality of your vehicles-all were top notch! Stay warm and thanks again for providing a great quality service. It seems people like you are harder and harder to find these days, so that's why I just had to stop and take the time to send you this note. I will gladly refer you to our friends as well :-)
Amy from Texas
Brad, The service and drivers were great in both directions. Thanks for everything. See you next year.
Phillip from Ohio
Hi Brad, I just wanted to tell you how happy Nash and I have been with the service that we received through VailCoach. You do a wonderful business, and having you arrange our ski rentals, along with our lift tickets; well it made our trip get off to a fabulous start. Thank You! Rest assured that we will spread the word to others headed to Vail on the professional, punctual, economical, and genteel service that we received from you and your staff. Beth
Beth from N. Carolina
Brad, Thank you for getting my family back to Denver this morning during that big snow storm. I will spread the word about VailCoach to friends coming out of Detroit. Thanks again!
John from Detroit
Brad, we arrived at the Aloft & it's great. So was your driver Jamarr! Thank u for everything. Speak to you at the end of the year when we come back. Best, Lisa
Lisa from New York
Brad, Thanks for everything. Your service was 5 stars. We look forward to working with you in the future. Regards, Geoffrey
Geoffrey from Florida
Brad, Thanks again for all your help with getting people out to my wedding rehearsal at the Lazy J. I was so thankful you and your crew were available. Thanks Laura
Laura from New York
Brad I wish I knew about Vailcoach years ago. No more Colorado Mountain Express for our family. Thank you again for all of your help.
Sara from Texas
Hi Brad, Just wanted to thank you for the transportation - everything was great. I have passed your name on to Sports America who did our lodging. Thanks again. We may take you up on the fly fishing recommendation.
Robin
Dear Brad I wanted to tell you how grateful I am to you for your fabulous help with our transportation needs while we were at the Sonnenalp Vail for our meetings. I never had a moment's worry knowing you had everything under control. Our meetings and activities were a wonderful success. You and your staff were instrumental in helping to make that happen. I have been so impressed with your professional and prompt follow through on all our requests right down to the most minuscule detail. It is a delight to work with you and I most appreciate your upbeat, can-do attitude through all the changes we kept throwing at you. You and your staff are AWESOME!!!Again, my sincere thaks to you and your staff for all you did to get us hither and yon. Warmest Regards, Valerie
Valerie from Oklahoma
Brad, wanted to thank you again for helping with the arrangements for our travel van to Vail. With my airline flight schedule screwed up, you stepped in and solved the problem with our group. After having to ride again with CME, I know again why we will always travel with you. Cramped seats, luggage between the driver and passenger seats and no place to strength your legs. They got me to Loinshead, but that about all. The van driver, I noticed from the way he changed lanes on a snow covered highway, did not have much time in driving in snow. Well, thanks again, I really appreciate your attention to detail and the wonderful attitude to express to your customers.
Nelson from Georgia
Brad, You are awesome. Thanks so much. I appreciate you making this easy for us. Happy New Year!!!
Jerry from Alabama
Hi Brad just to let you know and keep you posted. The driver was just Fantastic! He is a great guy, super! The ski rentals are great. Tomorrow , ski and snowboard!!!! Thanks!!
Carlos from San Juan
Brad, Everything workout perfect, thank you very much for your help. Best wishes for 2012
Alex from Mexico
Hi Brad, Just wanted to thank you again for all of your help with my ski rental. The guys were great!! I really think the set I used were the best pair of skis I have ever used. I appreciate your help! Hope you and yours had a wonderful Christmas and a Happy 2012! Thanks again!
Katy from Houston
Brad, Tim did a great job yesterday and we all made it back home without incident. Thanks so much for helping make our trip a great one. We'll give you a call when we start planning for next year!
Jerry from Alabama
Brad Just wanted to thank you for all your help in making arrangements for skis, grocery and transport. Everything was perfect and we had a great time! Thanks again
Robin from Ohio
Brad I will be recommending VailCoach to all my friends in Australia who come to Vail We will be back next year or the year after see you then
Justin from Australia
Hi Brad, Just arrived home in Australia - safe and well. I want to compliment and thank you for the professional way you go about doing your business. Being in a customer focused business myself, I was really very impressed. Of Tim, he is an absolute asset to your business - a champion human being in every way and a delight to have spent time with. I will recommend your services if I know of friends from down under going to Vail and hope we may have the need again as well (got to get to those Back Bowls !!) Best regards to you, Tim and your families.
Paul from Australia
Brad...Just great! See you next year.
Ben from Boston
Brad- Marc was fantastic as was your service. We will certainly recommend you to our East Coast group! Look forward to using you all again when we are on the West Coast!
Kris from Maryland